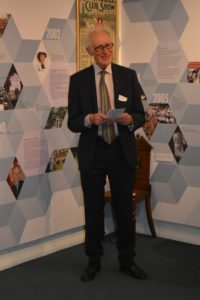 The Museum of Richmond was saddened to hear of the news of the death of Bamber Gascoigne. His support for the Museum goes back to the early days in the 1980s when he was part of the group that helped set up the Museum under the leadership of John Cloake. Bamber became our first Patron when the Museum opened in 1988 and he led the celebrations for our 30th Anniversary Exhibition in 2018. We were delighted that he joined us for our latest royal visit by Princess Alexandra, in November 2021, for a celebration of the King's Observatory exhibition.
Bamber was a keen supporter of the Museum and through his attendance at events and patronage, he helped the Museum as it grew and developed over the last 30 years. His love of Richmond and its history came through whenever he talked about the Museum, and he remained dedicated in his support to the future development of the Museum and its interpretation of the past. Bamber's commentary on the audio-visual exhibit on the buildings of Richmond remains as one of the key features of the permanent display in the Museum.
Bamber's commitment was unwavering, and he gave generously of his time and support. His warmth and enthusiasm will be long remembered by the Trustees, staff and volunteers of the Museum of Richmond. We send our thoughts and condolences to Bamber's wife Christina who has often attended our events and to the rest of his family.