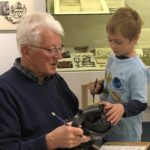 During 2021, the Museum will be offering a variety of activities for families, in line with COVID restrictions. All of our activities provide families with a hands on experience where they learn more about the history of the local area, develop new skills by having a go at arts and craft activities, and spend quality time together.
We will be running online workshops led by our Museum Expert, Vicky, who has over 15 years of experience of working with families and has an Enhanced DBS check. Everything you need for the crafts will be posted to your home. (You will need some basic bits like pencils and scissors, but we will send the rest!)
Need a digital detox in the holidays? We will also be providing our workshops as activity booklets, complete with materials, which will also be posted to you.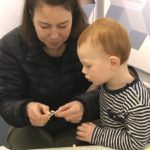 Once were are able to reopen the Museum, we will go back to offering our hands on workshops, using a mix of real and replica historical objects from the  Museum's handling collection, in a COVID safe environment, alongside the online workshops and activity booklets.
We will also keep adding to our Home Learning resources, with new videos and activity booklets and worksheets which are FREE to download.
Subscribe to our newsletter to keep up to date with Museum workshops, events and resources for families by clicking the button below

VISIT