The Museum of  Richmond regularly holds events linked to exhibitions, local history topics, guest speakers and fundraising events.
To find out more about upcoming events visit our What's On Page
Coffee and Crafting
October, November and December 2022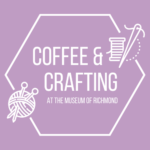 In each workshop we explored the story behind a beautifully crafted object in the Museum's collection and how it helps us tell the story of Richmond.
We then used the object as inspiration for a craft project based on the object and the skills needed to create it.
Participants received a goody bag of materials to help them continue crafting at home. We also provided tea, coffee and snacks during the tea break so you the group could have a relaxed chat with like-minded crafters.
To help keep these workshops open to as many people as possible, in this time of ever rising prices, we asked participants to donate what they could to help cover the costs of the materials and keep the workshops going.
Wednesday 5 and Saturday 8 October: we looked at an exquisite Georgian embroidered waistcoat and had a go at creating our own embroidery designs.
Wednesday 2 and Saturday 5 November: we had a go at embroidery inspired by a WWI embroidered postcard, sent home as a souvenir from The Front.
Wednesday 30 November and Saturday 3 December: after being inspired by a sampler book from the Museum's collection, we had a go at creating our own samplers
Curator's Tours – The Poppy Factory Exhibition
Online Talk – The Poppy Factory: 100 Years of History
Tuesday 8th November 2022, 7.30pm
A talk by our Museum Curator which engaged an online audience with the history of The Poppy Factory; this year celebrating its centenary.
Founded in the aftermath of the First World War as a means to employ disabled ex-servicemen, The Poppy Factory continues today to produce poppies and support the Armed Forces community from its home on Petersham Road.
This talk accompanied a free exhibition at the Museum: 'Richmond Remembers: 100 Years of The Poppy Factory' (27th September 2022 – Spring 2023).
The Artists Rifles
18 October 2022
Tuesday 18 October 2022
Kindly hosted by: The Poppy Factory, 20 Petersham Road, Richmond, TW10 6UR
In person and online
As part of a series of events to accompany the exhibition, 'Richmond Remembers: 100 Years of The Poppy Factory', the historian Patrick Baty gave us a fascinating insight into the history of the Artists Rifles – perhaps the most curious regiment in the British Army. Baty served in the Artists Rifles for ten years and is the regimental archivist. 
The regiment's members included William Morris, Frederic Leighton and even the poet Algernon Swinburne. It was natural choice for young men of an artistic persuasion in 1914 and after WWII the regiment took an unusual transformation, where many of its early traditions were maintained, in spite of very different times.
ONLINE TALK – ROOMS WITH A VIEW: THE HOTEL STUART
Tuesday 13th September 2022
This talk by Vice-Chair of the Museum's Board of Trustees, Rose Barling, explored the story of the Hotel Stuart: 60 years of a family business in a classic Richmond location.
Online Talk – The Richmond Murderess
Tuesday 12th July, 7.30pm
In this talk our Learning and Audience Development Officer told the gruesome tale of one of Richmond's most infamous yet little-known crimes: the murder of Julia Martha Thomas by her maid, Kate Webster, in 1879.
Trumpeters' House Garden Party 2022
25 June 2022, 2pm to 5pm
Trumpeters' House, Old Palace Yard, Richmond, TW9 1PD
Saturday 25 June, 2pm to 5pm
We welcomed guests to the beautiful gardens of Trumpeters' House, to enjoy cake, tea and wine whilst being entertained by the Barnes Concert Band.
Thank you very much to the owners of Trumpeters' House for their support of the Museum and enabling us to run this fantastic event again. We were delighted that tickets were SOLD OUT for another year running!
Swords Reluctant
Tuesday 24 May 2022
Swords Reluctant: Max Pemberton, Max Waechter and the European Unity League
A talk by Professor Ulrich Tiedau, University College London
Tuesday 24 May 2022

The European Unity League was created by Richmond resident Sir Max Waechter, who spent years touring Europe trying to bring the organisation to life. This talk focused on Sir Max Pemberton's 1912 novel War and the Woman, also known as Swords Reluctant – a little known aspect of the League's publicity campaign,  and explored Pemberton's semi-fictitious account of the League, what it can reveal about its significance, and assess the novel as an artefact in its own right.
Curator's Tours 2022
Every Saturday in March 2022
Visitors were able to join the Museum Team each Saturday in March  2022 to learn more about the stories behind some of their favourite objects on display. Each member of staff chose a selection of interesting items, so every tour was different!
Nature's Palette by Patrick Baty
1 February 2022, 7:30pm
Due to popular demand, we streamed the recording of the talk, via Zoom, for only £5 per person
An expert on the paint and colours of the past four centuries, Patrick Baty works with homeowners, estates, museums, public bodies and institutions, to reinstate interiors of the past, or to create a scheme sympathetic with the aims of a space and its current and future use. In this talk highlighting his book, Nature's Palette, Baty shares how his work helped to develop this technicolour trove building on Patrick Syme's edition of Werner's Nomenclature of Colours which attempted to establish a universal colour reference system to help identify, classify and represent species from the natural world for the first time back in 1841.