Donations
 A word from our patron: Sir David Attenborough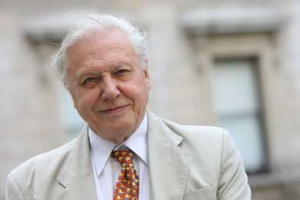 "The Museum of Richmond is evolving. Indeed it must do so if it is to remain alive and continue to reflect both the discoveries about our community's past and the possibilities for its future. Will you help us to continue to serve our community? You could do so by making a donation. I do hope you will."
Thank you for supporting the Museum – you can make a donation in person (at the museum), or online by clicking the button below:

Leaving a Gift in your Will
Since 1988 the Museum has told the story of Richmond. In order to fulfil our mission to preserve and interpret the material evidence of Richmond's past we rely heavily on the generosity and support of our visitors and local people.
One way you can make a lasting impact on the Museum is to remember us in your will. As a registered charity (no. 295164) any gift, large or small, is a huge help to the Museum. If you have a passion for a specific aspect of the Museum's work such as the learning, exhibitions, or the collections then these areas would greatly benefit from your gift.  Unrestricted gifts in wills are also very valuable as they allow us to allocate funds where they are needed most.
Your help will ensure our continued success in caring for Richmond's heritage and telling its story.
If you would like to talk to us about leaving a gift in your will please contact the Curator, Esme Loukota, on 020 8332 1141 or by email at curator@museumofrichmond.com. If you are planning on remembering us in your will please let us know so that we can thank you and keep you, or a loved one, informed and involved in the Museum.
Some previous Legacies:
Molli Cloake
Molli, the wife of the Museum's founder, John Cloake, left a legacy to the Museum in 2008. This was used to create an AV (audio-visual) installation about residential architecture in Richmond.
The AV, voiced by Bamber Gascoigne one of the Museum's patrons, and accompanied by beautiful professional photographs of the buildings, is located within the Museum's architecture section. Visitors are able to take a few minutes to sit and learn more about the history of Richmond's residential architecture.
This subject for Molli's legacy seems particularly appropriate given that she and John owned and restored important historic houses in Richmond.
William Reid
William's legacy helped to fund the WW1 AV unit. This contains films of local people's reminiscences and oral histories relating to the War. Giving those people an opportunity to share their stories with others.
Vivien Van Straubenzee
Vivien was a long-term supporter of the Museum. Her generous legacy enabled the Museum to develop a Pre-history 'Discovery Box' for local schools to hire. This is a resource local schools need to supplement their teaching and also generates income for the Museum.
Company Giving
Companies can claim Corporation Tax relief on all donations to charities. So, for a company paying Corporation Tax at 30%, the net cost of a donation worth £5,000 to the charity would be £3,500.
Gift Aid
All donations by UK taxpayers made under Gift Aid are increased in value by 25% and at no cost to the donor. Just fill in the Gift Aid section on the Donation Form and send it with your cheque. If you are a higher rate tax payer, you can reclaim the difference between the basic and higher rates on your annual return.
Regular Gift Aid donations by Bank Standing Order are especially valuable. This enables you to spread your gift over a number of months or years and the Museum to reclaim the tax. 
VISIT
THE MUSEUM IS OPEN!
We are delighted to announce that the Museum of Richmond is now officially open to the public! Visitors will need to pre-book tickets before coming to the Museum, which you can do by clicking the link below:
Please note that face coverings are mandatory inside museums so we will require visitors aged 11 or over to wear face coverings during their visit.
The only public toilet is accessed from outside the building so it may be easiest to access this at the start or end of your visit.
For more information about the steps we are taking to keep you safe as we reopen, please read our COVID-19 risk assessment.
For more information on how your visit will run, please read our 'What to Expect on Your Visit' document.
Price
Free Admission
Find us
2nd Floor, Old Town Hall, Whittaker
Avenue, Richmond, TW9 1TP
VIEW ON MAP