An evening with John Bird, the founder of The Big Issue
Monday 1 October 2018, Duke Street Church, Richmond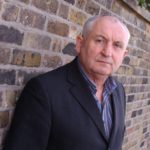 The Big Issue magazine was launched in 1991 in response to the growing number of rough sleepers on the streets of London. It offered people the opportunity to earn a legitimate income through selling a magazine to the public. Over twenty-five years on, their vendors come from a variety of backgrounds and face the myriad of problems associated with poverty and inequality.
In this fascinating talk, John Bird discussed his links to Richmond, why The Big Issue began here, and how this award- winning magazine continues to offer employment opportunities to people in poverty. The Big Issue Group has grown to a multi-million pound social investment business supporting enterprise to drive social change.