Become a Friend

By becoming a Friend you can help to ensure that Richmond continues to have a Museum to represent its fascinating history.
Membership entitles you to:
Regular copies of the Museum newsletter
Invitations to private views.
Invitations to the Supporters Christmas party and other popular social events.
Advance booking and a reduction on ticket prices for talks and other events.
All for only £12 a year or £120 for lifetime membership!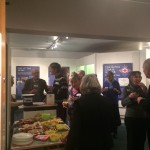 NEW! Joint Membership: £18 a year or £180 for lifetime membership
To join complete the Friends form and send it with payment (if paying by cheque) to:
Museum of Richmond, Old Town Hall, Whittaker Avenue, Richmond TW9 1TP
(Please make cheques payable to Museum of Richmond)
For standing orders, detach the second part of the form and send to your Bank Manager and return the first part to the Museum of Richmond.
VISIT
The Museum will be reopening on Thursday 3 December!
Book your visit online here.
Please note that some of our operating procedures have been adapted following COVID-19:
– Visits are limited to 45 minutes to allow time for the Museum to be cleaned between visits. To book a longer visit, please book 2 consecutive time slots.
– Face coverings are mandatory for visitors, except those under the age of 11 or with exemptions.
– The building's public toilet is only open Monday-Friday and is accessed from outside the building so it may be easiest to access this at the start or end of your visit.
Please check our 'What to Expect on Your Visit' document for more details on how we are running visits to the Museum.