KEY STAGE 3
Ignatius Sancho KS3 Teaching Resource:
Download our Ignatius Sancho resource to use with your students. He wrote on a number of topics, including theatre, literature, art & music, as well as speaking out against slavery. He was the first known person of African heritage to vote in a Parliamentary election and to receive an obituary in the British Press. #BlackHistory
Museum Sessions and Projects
The Museum can adapt and enhance any of the school sessions it currently offers for KS3 students. We regularly run specific programming and learning sessions for this group.
We recently ran a very successful 'Introduction to the Tudors' educational session for a Year 7 group which included a walk to the remains of Richmond Palace.
WORLD WAR ONE KS3 MUSEUM SESSION
We are delighted to tell you about our  World War One enquiry session at the Museum of Richmond. We recommend this session for your Stretch & Challenge or Gifted & Talented groups Year 7- Year 9 or as a great History Club activity.
To commemorate the Centenary Anniversary of the Battle of the Somme and building on the work of the Heritage Lottery-funded Richmond At Home & At War project, the session uses historical resources to explore the experiences of six Richmond men who died in 1916.
Presented as portfolios of documents, photos, and objects, pupils are guided through the evidence by the museum education officer and through a series of enquiry questions to piece together the stories of each man.
Each portfolio investigates a different experience, including the boy soldier who lied about his age to enlist, the young man who died serving in India, and the family man who left behind a wife and daughter. This approach will enable pupils to develop their understanding of the war and its impacts by connecting with the personal stories.
Designed for group work, pupils will develop their skills in investigating primary and secondary sources. At the end of the session pupils will present their findings back to the rest of the group followed by a facilitated discussion of their findings.
The session will also include an introduction to World War One and visit to the Richmond War Memorial. Sessions can be booked from 10am to 11.30am at the Museum of Richmond Tuesday to Fridays (inclusive) we recommend booking at least one month in advance. Cost is £2.50 p/student (or £3.50 p/student out of borough school.)
To book please email museumofrichmond@btconnect.com or call 0208 332 1141.
The World War One Discovery Box which includes teachers resources and the six portfolios used in the session will be available for schools to hire out later in the year.
WWI KS 1-3 ONLINE LEARNING RESOURCES
As part of our First World War centenary project, Museum of Richmond has produced formal resources for schools.
Aimed at Key Stage 1 – 3, although they can be adapted by teachers, the resources are designed to provide opportunities for using local stories to explore national events.
The attached PDFs provide background information to enable teachers to orientate themselves and pupils, with facts and images to build understanding of the impact of the war on the borough of Richmond.  As well as images, the resources offer enquiry questions to encourage further study.
The PDFs also provide short case studies on people and objects with suggestions for cross curricular activities and links to supporting websites.
WWI Disability Resource
WWI Technology Resource
WWI Women Empire Resource
WWI List of Countries
WWI Slide Resource
To download our school's brochure and for more information please click here- Programme for Schools

SECONDARY SCHOOL PROJECTS
In 2012, the Museum of Richmond partnered with Christ's School and ran a successful project which centred around the upcoming Olympics. More recently, we partnered with Waldegrave Girls School, Christ's School and the German School as a part of our WWI project and exhibition. They visited the Museum where they undertook object handling, a tour of the WWI exhibition, and heard about the story of an individual solider. They also visited Local Studies to learn more about the archive and the WWI resources available in their collection. These schools are contributed to our WWI blog.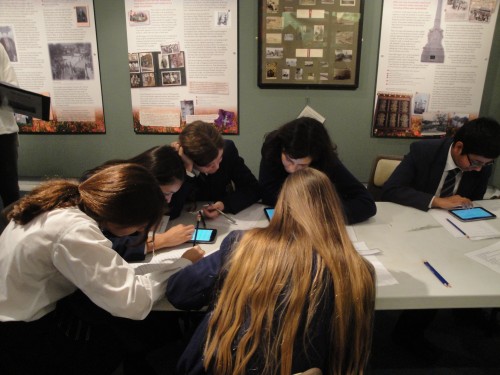 VISIT