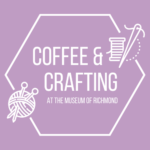 In each workshop we explored the story behind a beautifully crafted object in the Museum's collection and how it helps us tell the story of Richmond.
We then used the object as inspiration for a craft project based on the object and the skills needed to create it.
Participants received a goody bag of materials to help them continue crafting at home. We also provided tea, coffee and snacks during the tea break so you the group could have a relaxed chat with like-minded crafters.
To help keep these workshops open to as many people as possible, in this time of ever rising prices, we asked participants to donate what they could to help cover the costs of the materials and keep the workshops going.
Wednesday 5 and Saturday 8 October: we looked at an exquisite Georgian embroidered waistcoat and had a go at creating our own embroidery designs.
Wednesday 2 and Saturday 5 November: we had a go at embroidery inspired by a WWI embroidered postcard, sent home as a souvenir from The Front.
Wednesday 30 November and Saturday 3 December: after being inspired by a sampler book from the Museum's collection, we had a go at creating our own samplers