KEY STAGE TWO WORKSHOPS
From Pre-History to World War Two, we offer a range of hands on, cross curricular workshops to really help your pupils engage with the past. All of our workshops can be adapted for all ages and abilities.
Classes are also welcome to visit the Museum independently or, if a visit is not possible, hire one of our Discovery Boxes to use in the classroom.
If you can't see what you need please ask!
To book please call 020 8332 1141  or email learning@museumofrichmond.com
Homes Through The Ages
Your pupils will become history detectives, investigate objects and organise them into a timeline. Focusing on the core skills of investigation and discussion, your class will handle original and replicas of household objects and compare them to what they have at home, in this hands-on workshop
Choose three of the following periods: Roman, Tudor, Victorian, World War Two and Post-War Britain.
Curriculum links: English (up to lower KS2), Science and History
Romans
Your pupils will learn how to dress like the Romans, talk like the Romans, even wash and eat like the Romans! A typical 90-minute teaching session explores the life of a Roman civilian using costume and a mix of replicas and 2000-year-old Roman objects from the Museum's collections. Your class will even play Roman Games and go to a Roman School!
Curriculum links: English (up to lower KS2) and History
Tudors: Life in Richmond Palace
Discover the story behind the magnificent palace Henry VII built at Richmond and compare what life was like for the rich and poor who lived and worked within its walls…
Curriculum links: English(up to lower KS2) and History
Victorian Richmond
Through a variety of hands on activities, your students will discover what Victorian schools were, what toys they played with and the work that went into wash day!
Curriculum links: English (up to lower KS2) and History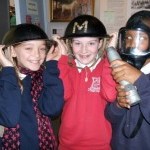 World War Two in Richmond
This session is tailored to link with the locality of the school. It explores the impact of the war on that area and provokes discussion on what children's lives might have been like. Students are able to interview a local resident who was a child during the war about their experiences, handle wartime artefacts, and explore war time records in Local Studies.
HOW LIFE HAS CHANGED IN OUR LOCALITY: A COMBINED MUSEUM OF RICHMOND AND LOCAL STUDIES SESSION
This session is linked to the locality of the school and is aimed at Year Six students. Information from maps, census returns and trade directories are consulted in the archives of Local Studies, while the Museum supports the researched information with paintings, prints and objects.
WE ARE OPEN
FREE ADMISSION
Tuesday – Friday: 11am to 5pm
Saturday, April to September: 11am to 5pm
Saturday, October to March: 11am to 4pm
Please note: we often have learning workshops which start before the Museum opens to the public, which means the exhibition area will not be accessible until 12noon
Closed Sunday and Monday and on public holidays, including Easter Saturday.