Become a Supporter
By becoming a Supporter you can help to ensure that Richmond continues to have a Museum to represent its fascinating history.
Membership entitles you to:
Regular copies of the Museum newsletter
Invitations to private views.
Invitations to the Supporters Christmas party and other popular social events.
Advance booking and a reduction on ticket prices for talks and other events.
All for only £10 a year or £100 for lifetime membership!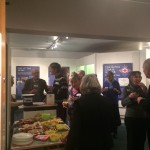 To join complete the Supporters Form and send it with payment (if paying by cheque) to:
Museum of Richmond, Old Town Hall, Whittaker Avenue, Richmond TW9 1TP
(Please make cheques payable to Museum of Richmond)
For standing orders, detach the bottom part of the form and send to your Bank Manager and return the top part to the Museum of Richmond.