Staff and supporters at The Royal Star & Garter Homes and the Museum of Richmond were honoured when Her Royal Highness Princess Alexandra opened The Royal Star & Garter: 100 Years of Care Exhibition on Wednesday 23 November.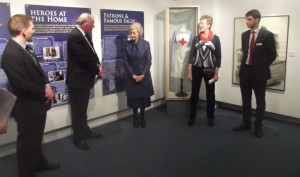 (From Left) The Charity's Andy Cole and Governor Surgeon Rear Admiral Michael Farquharson-Roberts, with HRH Princess Alexandra, Richmond Museum's Lisette Simcock and Curator James Scott
The Princess is President of The Royal Star & Garter Homes and Patron of the Museum. Escorted by Chair of the Museum, Lisette Simcock, Her Royal Highness took time to view the artefacts and speak to the assembled supporters of both organisations.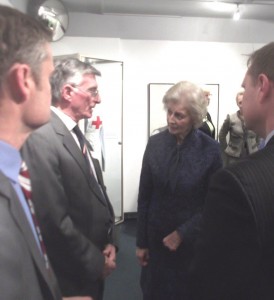 The Princess meets supporter John Echlin
In his welcoming address, Andy Cole, Chief Executive of The Royal Star & Garter Homes, explained how Richmond plays a key role in the Charity's story:
"At the end of our centennial year, which we share with the centenaries of the Battles of the Somme and Jutland, we are proud to share our history with the public through this wonderful exhibition, which encapsulates the spirit of the Charity. Richmond remains our spiritual home and our long history is deeply entrenched in the area."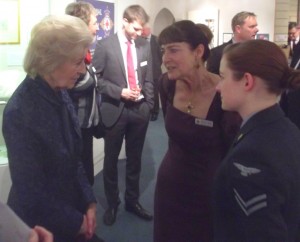 The Princess meets the Charity's Director of Care, Pauline Shaw and her daughter Alex, an RAF military nurse
The exhibition provided a fascinating insight into life in the Homes over the past century through photographs, paintings, artefacts and personal diaries. Charting life for the disabled veterans who lived there and nurses who cared for them in dark days of the First World War, the derring-do of residents who served in the Second World War, and the pioneering work of Dr Guttmann in the 1940s, the exhibition celebrated the rich history of The Royal Star & Garter Homes to the present day.
VISIT
THE MUSEUM IS OPEN!
We are delighted to announce that the Museum of Richmond is now officially open to the public! Visitors will need to pre-book tickets before coming to the Museum, which you can do by clicking the link below:
Please note that face coverings are mandatory inside museums so we will require visitors aged 11 or over to wear face coverings during their visit.
The only public toilet is accessed from outside the building so it may be easiest to access this at the start or end of your visit.
For more information about the steps we are taking to keep you safe as we reopen, please read our COVID-19 risk assessment.
For more information on how your visit will run, please read our 'What to Expect on Your Visit' document.
Price
Free Admission
Find us
2nd Floor, Old Town Hall, Whittaker
Avenue, Richmond, TW9 1TP
VIEW ON MAP